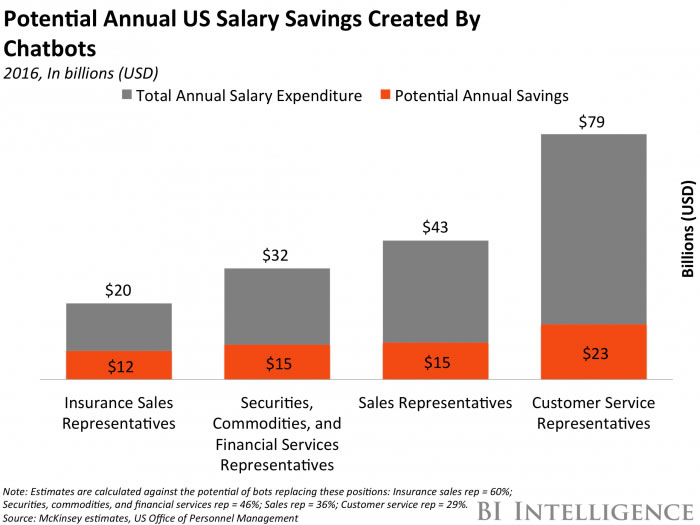 This story was delivered to BI Intelligence "E-Commerce Briefing" subscribers. To learn more and subscribe, please click here.
Social sales and marketing virtual assistant developer Kit CRM has launched a chatbot on Facebook Messenger to help retailers run campaigns on the social media platform, reports VentureBeat.
The AI-powered chatbot will be able to perform a variety of marketing-related functions including posting updates, running ads on either Facebook or Instagram, and sending email marketing campaigns. Kit was acquired by e-commerce platform provider Shopify in April. Shopify boasts more than 275,000 online merchants, and being able to work closely with this many e-tailers should help Kit's machine-learning technology run more efficient, effective campaigns.
This bot also seems to be the first business-facing chatbot to be launched on Messenger. The social media platform has been courting retailers to Messenger over the past year, but the focus has largely been on helping those merchants serve consumers. The launch of the Kit chatbot will probably attract even more retailers to the platform now that there's a virtual tool focused on them — one that's likely to enhance their social media presence and build brand awareness. It will also benefit retailers by trimming down costs related to internal marketing operations, which include paying individual employees to set up email campaigns and Facebook ads.
Facebook has consistently created new tools for businesses, and it's grown its social commerce business across both the Facebook platform and the standalone Messenger app, as we've previously discussed. This strategy seems to be working — more than 50 million businesses now operate a Facebook Page, which is up from 40 million in April. Furthermore, 2.5 billion comments are made on business Pages every month, double that of last year. Brands and retailers are taking advantage of the communication tools that put these businesses in touch with Facebook's massive audience.
Advancements in artificial intelligence, coupled with the proliferation of messaging apps, are fueling the development of chatbots — software programs that use messaging as the interface through which to carry out any number of tasks, from scheduling a meeting, to reporting weather, to helping users buy a pair of shoes.
Foreseeing immense potential, businesses are starting to invest heavily in the burgeoning bot economy. A number of brands and publishers have already deployed bots on messaging and collaboration channels, including HP, 1-800-Flowers, and CNN. While the bot revolution is still in the early phase, many believe 2016 will be the year these conversational interactions take off.
Laurie Beaver, research associate for BI Intelligence, Business Insider's premium research service, has compiled a detailed report on chatbots that explores the growing and disruptive bot landscape by investigating what bots are, how businesses are leveraging them, and where they will have the biggest impact.
The report outlines the burgeoning bot ecosystem by segment, looks at companies that offer bot-enabling technology, distribution channels, and some of the key third-party bots already on offer. The report also forecasts the potential annual savings that businesses could realize if chatbots replace some of their customer service and sales reps. Finally, it compares the potential of chatbot monetization on a platform like Facebook Messenger against the iOS App Store and Google Play store.
Here are some of the key takeaways:
AI has reached a stage in which chatbots can have increasingly engaging and human conversations, allowing businesses to leverage the inexpensive and wide-reaching technology to engage with more consumers.
Chatbots are particularly well suited for mobile — perhaps more so than apps. Messaging is at the heart of the mobile experience, as the rapid adoption of chat apps demonstrates.
The chatbot ecosystem is already robust, encompassing many different third-party chat bots, native bots, distribution channels, and enabling technology companies.
Chatbots could be lucrative for messaging apps and the developers who build bots for these platforms, similar to how app stores have developed into moneymaking ecosystems.
In full, the report:
Breaks down the pros and cons of chatbots.
Explains the different ways businesses can access, utilize, and distribute content via chatbots.
Forecasts the potential impact chatbots could have for businesses.
Looks at the potential barriers that could limit the growth, adoption, and use of chatbots.
To get your copy of this invaluable guide, choose one of these options:
1. Subscribe to an ALL-ACCESS Membership with BI Intelligence and gain immediate access to this report AND over 100 other expertly researched deep-dive reports, subscriptions to all of our daily newsletters, and much more. >> START A MEMBERSHIP
2. Purchase the report and download it immediately from our research store. >> BUY THE REPORT
The choice is yours. But however you decide to acquire this report, you've given yourself a powerful advantage in your understanding of chatbots.